Posted by: _Chris_
3D Photography- Stereoscopics & Storms! -
30/05/2010
22:39
I donít know how many of you have tried out, or experimented with stereoscopics (and if anybody has, Iíd love to hear about your experience and ideas!), but for those who havenít, I thought Iíd share some resources and information about how easy it really is to shoot in genuine 3D. With the speed at which Avatar and other 3D movies have exploded into our lives, and the first of the 3D TVs making finance companies that little bit wealthier, thereís no doubt we havenít seen the last of it yet, the only difference being unlike a $4000 TV, stereoscopics hardly even puts a dent in your small change jar!
Now, as I sort of forgot about when I tried to show some basic shots today at the SA catch-up, it does take a while to ďteach your eyesĒ how to do it. Some people pick it up in less than five minutes, but for others like myself, it can take a couple of days to be viewing them 100%, but when you get to that point, you donít even need glasses to see 3D just as realistic as Avatar.
Now you donít even need a special camera to take them. Even most phone cameras will give you a good enough result, as itís not what you shoot your subject with, but how you shoot it. The basic theory behind this and most illusions of depth is that they mimic what the eyes do. The eyes see two slightly different images, essentially the same thing, just 65mm to the side of the other. That 65mm is just enough to triangulate the distance of an object, compare it to other objects, and thus perceive depth. A stereograph is the same thing. Two separate images are taken. The composition remains the same for both of them, the second one is just taken a little to the side of the first, and when viewed through a stereoscope (or the naked eye), the brain can judge depth. Now the key to getting it right is to keep the continuity between the images. The only difference should be the subtle angle. This limits you from shooting fast objects like a car (without a multi lens camera), because if objects donít match up in the images, it just confuses your visual processing, and spoils the rest of the illusion.
To achieve a good demonstration of depth, Iíve found that you need to pivot at least one degree around the subject. This will be just a couple of centimeters for something like a person in the same room. This is also where you can start to go further than what human vision is capable of. When you view very large or distant objects (like an approaching cold front, or a mountain range), the separation of your eyes just isnít enough to perceive any depth, leaving them looking flat. By taking the two pictures with a separation of at least one degree, you can artificially give them a perspective of depth. Imagine looking at a storm cell like it was a miniature in your hand. It would be a whole new way to appreciate structure. The key to this though would be speed, trying to cover the distance of a degree, without the cloudscape changing too much. To cover a one degree between photos of an object thatís 1km away, you need at least 17.4m, and for something thatís 10km away, 174m. Remember to keep continuity between the photos though, so perhaps shooting wide, then cropping the two images to remove uneven foreground material, and match size and composition. Ultimately, for me it would be amazing to see lightning this way. Lightning, unless very close, often looks very flat. It would be a way to really appreciate the shape and structure of lightning. To capture lightning though would of course take two cameras operating simultaneously, coordinated by two people.
After taking your images, the best way to view them, as well as train your eyes, is with a simple stereoscope. Very simple instructions of how to build one, along with more information on stereoscopics can be found here-
http://www.funsci.com/fun3_en/stscp/stscp.htm
. I built one with plastic advertising board, and cheap reading glasses for next to nothing, that works perfectly. If anybody wants one, Iíd be happy to post one up for the parts and postal cost only (probably $15-$20, just PM me). You can also view them straight on the screen and get the full 3D experience, although this does take a trained eye. Just put on a pair of reading glasses, set your eyes back around 30cm from the screen, and place a piece of cardboard or thin book on end between your eyes and the screen to divide the two images. The images also should be printed no larger than 6cmX9cm. Images larger than this force the eyes to diverge. This size also means that the two photos that make up one image can be printed on one standard 10cmX15cm printed.
Below are a selection of images Iíve taken over the last couple of days in 3D. My intention, when the opportunity presents its self, is to start taking some 3D pictures along with the normal photos and videos while chasing, and as I do so, Iíll share them on here. Until then, I hope you enjoy!
Cheers,
Chris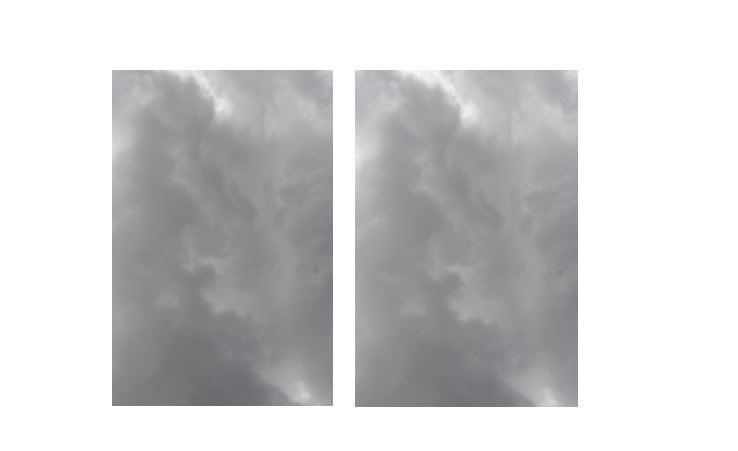 This last one is the result of experimentation. The original lightning pic was only a single image, so Iíve taken an image taken before the strike with a slight angle difference, then copied the lightning sky onto that. Then Iíve altered the bolt slightly by stretching the distant parts of the bolt slightly to one side, then Iíve done the same to closer parts of the bolt, just a little more stretched, stretching it more the closer the bolt is, mimicking the way closer objects have a greater visual difference between eyes. The results are quite promising so far, and could become quite realistic with further refining.